The real cost of an e-mail template!
5mn
Decision-makers often wonder whether to pursue in-house development or outsourcing?
Otowui offers you its analysis to illustrate the differences in cost structure for each option.
In-House
While looking to use existing internal available resources is worth considering, it must be carefully evaluated! So let's dig into it.
1 / Do you have the right internal resources?
First of all, it is important to know that creating an Email template requires specific Designing and Web developing skills. Indeed, the design of an Email supported by all Email clients, devices (desktop, tablet, mobile) and displays (including dark mode), is far from straightforward. So make sure your team has the necessary experience and skills in order to prevent your project from becoming a real internal ordeal.
2 / Do you have all the resources available?
Project Manager, Designer, Email Developer, Marketing Automation, Field Marketer and the final decision maker are all needed. Companies embarking on this type of initiative should know that it takes at least 1 to 2 months with fully dedicated resources for the successful completion of this type of project.
3 / Do you have a minimum budget?
In order to ensure support of all Email clients and devices on the market, comprehensive testing is a must. To do this, either your IT department creates a complete sandbox messaging environment (which will be work) or you have to use a third party rendering tool (which won't be free).
4 / Have you clearly defined the modeling process?
Be careful in selecting who to involve! Excitement for this type of project should not outweigh the specificity involved in the design of an email. All resources must fully understand the challenges of the project and its constraints before making their choices, or your project could end up spilling over a semester or even a year.
5 / Have you thought about the costs incurred for future corrections or updates to your Email template?
Nothing is more unpleasant than to receive an email from your boss showing that the rendering of the email is broken … And yet this will happen sooner or later due to the constant evolution of Email clients! Or your company could very well decide to proceed with a "rebranding", and you are back to square one knowing that the internal resources who worked on the project might have moved on and/or not be available then …
By now, you can tell that the use of internal resources has a much higher cost in time than in upfront cash. Considering these facts, it is up to you to assess whether it makes financial sense.
Outsourcing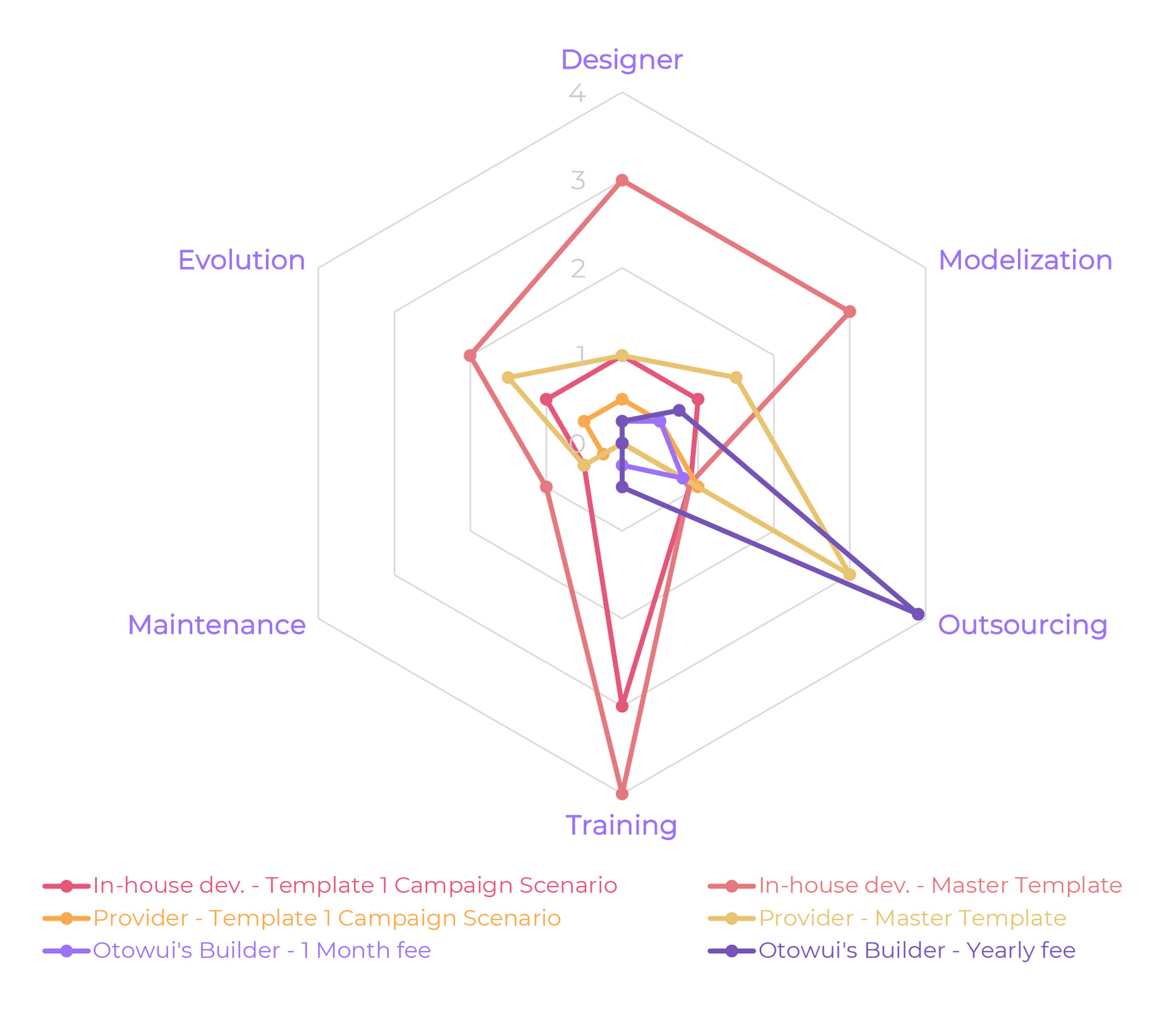 This radar chart compares the financial impact of the different types of outsourcing and in-house development. Let's dig into it.
1 / Measure the scope of your needs.
What do you use emailing for (newsletter, invitation, download offer, …)? Do you want a standard template or one that best reflects your brand & identity? Do you have internal resources to formulate coherent Email template specifications (design, functionalities, modularities, …)?
2 / How much time do you have?
Once again, we are back to the main question: Time VS Email skills. This is the key to knowing what it will cost you.
3 / What type of outsourcing should you choose? One-off or an App?
From the graph above, you will see that there is no ready-made answer to this question as it also depends on both Maintenance (updates to adjust to email clients updates) and Evolution (internal rebranding) factors, which are very difficult to predict further than a year out.
Outsourcing provides you with industry experts that guarantees the successful completion of the project while optimizing the completion time.
At Otowui, we offer both types of solutions and we recommend the use of our year-round application when you want the most complete peace of mind knowing that you will be covered for the "Maintenance" and "Evolution" factors at no additional cost.
Follow Us on Linkedin
Share on:
,
Twitter
,
Facebook
,
Posted ago by Charles
Charles is the co-founder of Otowui and is responsible for marketing strategy and business development. He is a web enthusiast and digital marketing expert, with over 15 years of experience in the field. He enjoys creating unique and personalized user experiences for Otowui customers. He is also a developer and is passionate about the latest technologies to improve the performance and quality of Otowui's products.